The Best Thing You'll Ever

Buy For Your Pool
No matter the size, shape or type of pool, nothing cleans like a Maytronics Dolphin. Try our Dolphin Selector to find the right robotic cleaner for your pool.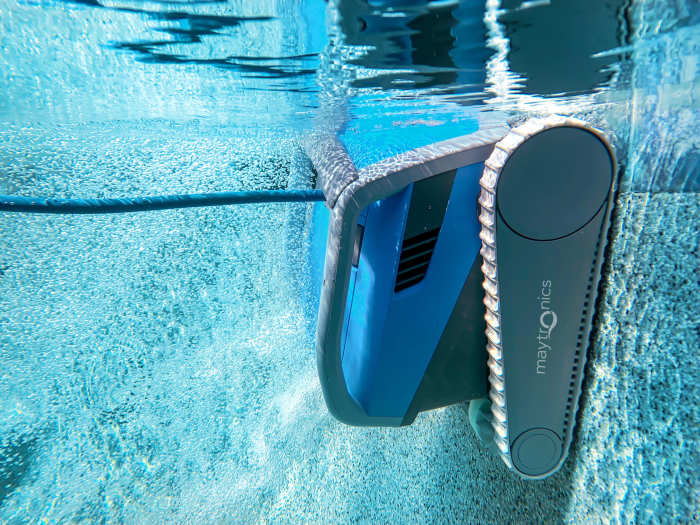 The Smartest Maytronics Robotic Swimming Pool Cleaner Products Yet
Why a Maytronics Robotic Pool Cleaner is Better
For too long, pool owners have been burdened with the maintenance of their pools. Are you trying to fit in essential swimming pool cleaning around a busy life? Still using a substandard robot pool vacuum cleaner that doesn't do the job properly? Now you can maintain a crystal clear pool without the hours of frustration, using the smartest technology controlled by you, straight from your phone app - the Dolphin difference! Maytronics has pioneered innovative pool cleaning technology for over 35 years and is proud to be the market leader for robotic pool cleaners in Australia. When compared to traditional automatic swimming pool vacuum cleaners, a Maytronics product continues to present technology far ahead of its time.
The Maytronics smart swimming pool robot cleaner essentially sucks and scrubs your pool, leaving you with crystal clear water.

Your Dolphin robotic pool cleaner allows you to spend more time enjoying your pool with the kids and friends than time cleaning it.
Relax and enjoy your pool, knowing that you're using one of the smartest and bestselling automatic pool cleaners available.
The difference between Maytronics Robotic Swimming Pool Cleaners
and a Pool Vacuum Cleaner
There are a number of swimming pool cleaners on the market of varying quality and uses. Most pool cleaners are marketed to you with names that make them sound more suitable than what they are, such as ground pool cleaners, the summer suction pool cleaner, pressure-side pool cleaners or more simply, waterline pressure cleaners. While there may be a huge range of options, there is also a huge difference in performance when it comes to removing dirt and debris from your above or in-ground pool.
Take a look at our quick comparison chart below for the difference between Maytronics' technically-led, innovative swimming pool robots and vacuum cleaners for pools that traditionally consume your time and require manual handling:
Maytronics Dolphin Robotic Pool Cleaner

Sucks up loose debris for the pool floor and surface

Scrubs the pool floor and walls to remove grime

Climbs the walls and scrubs along the waterline

Uses smart navigation technology to suction each section of the pool once

Quick and easy cleaning

More time to enjoy your pool

Auto Pool Vacuum

Automatically sucks up loose debris on the pool floor

Doesn't rely on navigation technology, just a random pattern

Doesn't remove dirt, algae or grime

Requires manual scrubbing

Floating debris will need to be manually scooped up

Less time to enjoy your pool

Manual Cleaning

Affordable cleaning solution

Time consuming

Manual scrubbing required

Requires scooping the leaves with a net

Less time to enjoy your pool
Powerfully manufactured for the toughest of mess, your choice from our huge range of Maytronics automatic swimming pool cleaners offers you advanced technology and performance vs. common pool suction cleaners or pool vacuum cleaners that can't clean your pool to the standards you need.
The New Generation of Cordless
Pool Cleaners
Get the same unmatched Dolphin performance – now cordless! The new Dolphin Liberty cordless robotic pool cleaner is loaded with innovative features to transform the way you care for your swimming pool.
Cordless design for ultimate agility

A whole week's cleaning on one charge

Dolphin robot will climb up to you for easy removal from the pool

Magnetic connect for inductive charging
The new generation of cordless pool cleaners from Maytronics are designed to solve complex just pool cleaning problems that most pool cleaners can miss, with durable active scrubbing brushes, superior filtration system, customised coverage options and more. Discover why the Dolphin Liberty is an effective cleaning solution for any pool type – without the hassle of tangled cords.
Learn More
1st Climate Care Certified
Robotic Pool Cleaner
A Dolphin automatic swimming pool cleaner will leave you with crystal clear water with less stress. The Maytronics Dolphin pool cleaner is also the world's first climate care certified robotic pool cleaner - giving you:
A reduction in energy consumption,

Less water wastage, and

Reduced chemical usage
The Maytronics Dolphin automatic pool cleaner range extends from entry-level pool floor cleaners, mid-range floor and wall coverage cleaners to the premium best-of-breed robotic swimming pool cleaner which will clean floors, walls and waterline – a better alternative to a basic robot pool vacuum cleaner!
Learn More
Smart Technology
from your phone
The advanced navigation system requires less time and energy to provide a more thorough clean to your pool. With the additional support of your Wifi-connected pool robot, you can have full control via the MyDolphin App.
Choose modes

Get notifications

Set a timer

Select a cycle to keep your pool perfect
You don't even have to be home to operate it. Maytronics swimming pool cleaners work independently. You choose when to clean your pool. The Maytronics' auto pool cleaner goes to work, keeping your water oasis healthier and cleaner giving you more time to enjoy your pool!
Some of our great products
Smart Robotic Pool Cleaners
Never gets stuck

Less Cleaning - More Fun

Easy to use
The leader in robotic pool cleaning technology to transform your leisure time around the pool.
Global Leaders
In Robotic Scrubbing Pool Cleaners
Maytronics easy to use systems work as both an 'automatic' pool leaf cleaner and automatic pool surface cleaner, leaving little for you to do other than to clean out your pool skimmer from time to time.
An automatic electric pool cleaner generally stays on the bottom of any pool, sucking up to other debris. Whereas an innovative Maytronics automatic pool cleaner's dual-action brushes deliver a superior clean with complete coverage using an advanced scanning system for optimal pool floor, wall and waterline cleaning. It even adapts to your specific pool shape and surface type to actually scrub the floor, walls and surface.
Each Maytronics model provides incredible cleaning performance and efficiency and will change your experience from the frustration of traditional automatic inground pool vacuum cleaners and spa vacuum cleaners. It doesn't matter if you are looking for a sparkling clean backyard pool, lap pool, plunge pool or spa, it is time to throw away the scrubbing brushes and manual cleaners and update your traditional automatic pool suction cleaner to a robotic pool cleaner. Let the Maytronics Dolphin robot do the hard work.
When you buy a robotic swimming pool cleaner from Maytronics, be rest assured that you have brought the best available.
Learn More
Leaders in Commercial
and Public Pool Cleaning
Maytronics advanced filtration and brush cleaning system makes the Wave commercial range a true leader in its field. It's not just your average water filtration vacuum cleaner for Australia's residential use, it is so much more!
Superior in performance when compared to traditional suction pool cleaners in Australia, the Wave range delivers an easy to use commercial cleaner with advanced technology for precision. Each robotic pool cleaner is designed to meet the challenging requirements of large aquatic facilities, regardless of shape or type - including beach entry style pools!
They filter water consistently to skim the surface for floating debris and picking up large debris. Get line-by-line cleaning with a state-of-the-art process that is fast and efficient. Its innovative action keeps your pool open for business while minimising cleaning downtime.
Find out more
World's 1ˢᵗ Climate Care Certified
Robotic Pool Cleaner
Powerful Performance
Total cleaning and optimised water filtration, with gyroscopic navigation system for full cleaning coverage.
Ease of use
The easiest, most efficient and economical solution for keeping your pool clean.
Peace of mind
Relax and enjoy your pool, knowing that you're using the smartest and best-selling robotic pool cleaner.
Not sure which model?
Try our Dolphin Selector and find the right swimming pool cleaner for you!
It won't be difficult to choose what type of pool cleaner may suit your requirements. At Maytronics, we make buying automatic pool cleaners online for Australia's backyard pools as easy as possible. We've made it easy so you can compare the expertise of each commercial auto pool cleaner online. Be assured that all our pool cleaners include the most advanced technologies with proven reliability to ensure maximum satisfaction, every time.
Which Model
Is It Worth Getting A Robotic Pool Cleaner?
Absolutely! Swimming pools are meant to be enjoyed, not just become another household chore. Avoid the countless hours of physical labour and let a Dolphin robot take care of your pool maintenance with maximum efficiency. No matter your pool's size, shape, or surface type, nothing cleans like a Maytronics Dolphin. With powerful filters that can capture even the smallest particles of dirt and debris, our innovative range of robotic cleaners will scrub your entire pool in just a couple of hours. By investing in an automatic cleaner, you'll have more time to break out the pool toys for some family fun or relax with a refreshing dip in your crystal clear pool. Here are four reasons why a robot pool cleaner from Maytronics is the best piece of pool equipment you'll ever buy!
1. Convenience

Our automatic cleaners are designed to take all the hard work out of owning a swimming pool. Simply plug-in, press the power button and drop the robot in your pool and soon you'll be enjoying a relaxing dip with your family in pristine water. You don't even need to be home to start the cleaning process. The MyDolphin app allows you to easily control your robotic swimming pool cleaner from a smartphone or tablet.

2. Performance

You can have complete confidence in the powerful cleaning performance of your Maytronics robotic pool cleaner. Active brushing delivers extra scrubbing and cleaning to remove debris from your pool's surface. Ultra-fine filtration captures and removes particles and large debris. The self-learning robot even adapts to your pool's shape and surface type to scrub the floor, walls and waterline. In other words, a swimming pool cleaner from Maytronics cleans where you need it to clean for crystal clear results.

3. Sustainability

Living in a more sustainable way doesn't mean you have to miss out on the things you enjoy. That includes swimming in your pool with crystal clear water. The Maytronics Dolphin range is the new benchmark in environmental sustainability for swimming pools and spas for all pool shapes. In fact, it is the world's first climate care certified robotic pool cleaner. Maytronics pool cleaners can reduce electricity consumption by up to 80% during a cleaning session when compared to other traditional pool vacuum cleaners. Most pressure pool cleaners and suction cleaners rely on high-energy functions associated with the use of water pressure and vacuuming when collecting dirt and debris. The Maytronics Dolphin is one of the most energy-efficient pool cleaners in Australia. Our automatic pool cleaners also save water and improve water quality with our innovative pool's filtration system. You can reduce your carbon footprint and save money all while keeping your filtration system and pool clean.

4. Support

You're never left on your own when you purchase an auto pool cleaner from Maytronics. We have an extensive knowledge base just a few clicks away to answer any questions you may have about your robotic pool cleaner. We are dedicated to offering you full support with your robotic swimming pool cleaner including maintenance and troubleshooting to help you keep your pool sparkling clean for years to come.
Learn More
Contact Us
Got a question? We'd love to hear from you. Send us a message and we'll respond as soon as possible.
Blogs
Subscribe
Subscribe to receive the latest updates and promos